Are you wondering how to get better perspective on your life? Do you find your conscience plagued by memories of folly and sin?
If you find your faith dashed by the presence and memory of sin, there is a remedy available. It doesn't come in a bottle nor with magic incantations. The solution you seek is nearly 2,000 years old and its origins are eternal.
Before you dismiss this as another empty message from an out-of-touch preacher, let me tell you that I'm writing this because I've been living a half-hearted faith for over 35 years.
King David said, "Blessed is the one whose sins have been forgiven." I've known for most of my life that God forgives my sins, but that's not how I live. My head knows I'm forgiven, but whenever I'm reminded of my sin and weakness, my faith begins to unravel. I've lived this yo-yo existence for all of my Christian life.
But I recently read something that is slowly changing all that. Martin Luther said, ""The gospel cannot be preached and heard enough, for it cannot be grasped well enough."
That statement undid me. Perhaps you can't see the gravity, so let me explain. Like for most Christians, the cross has always been meaningful, especially on Easter and during communion. I've even learned over the last decade that I need to daily preach the Gospel to myself (soemthing Luther also taught), but all of that never led me to realize just how costly and precious the cross must become in how I think about and live my life.
I ask you put aside your corny analogy alert for a minute, because what I'm getting ready to share could begin to transform your life just as it's doing for me.
5 Reasons Why I Want to Become More Cross-Eyed
Optometrists know that being cross-eyed causes degeneration in the human eye when not corrected. I don't seek physical blindness, but I would accept it if it allowed me to see spiritually with 20/20 vision.
I believe the only way to seek 20/20 spiritual vision is to become Cross-eyed. By that I mean we need to see all of our lives through the lens of the cross of Jesus Christ.
Here are my five reasons for becoming cross-eyed: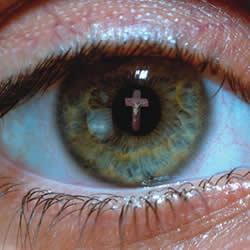 1. Only through the cross can I see my former sins as forgiven
For years I've looked back on my folly as a child, teenager or even as a young adult (or frankly a middle-aged adult also) and pondered with shame things that I have done that are unfitting for a Christian. My pre-Christian years are short and so I've done few reprehensible things in my life before coming to faith, but the list is very long after my day of salvation.
In contrast to the fruits of the spirit listed in Galatians 5, Paul lists the following patterns of the flesh—many to which I've fallen prey: "19 The acts of the flesh are obvious: sexual immorality, impurity and debauchery; 20 idolatry and witchcraft; hatred, discord, jealousy, fits of rage, selfish ambition, dissensions, factions21 and envy; drunkenness, orgies, and the like. I warn you, as I did before, that those who live like this will not inherit the kingdom of God."
I've lived far too long looking at this litany of sins thinking they disqualify me from teaching the gospel. At one level they do disqualify me, but only if I have not looked at them through cross-eyes. If I look at these events, patterns and sins through the lens of the cross, I see they are fully forgiven and paid for at the cross where Jesus fully paid the price for my sins. If I've repented and accepted this gift, I don't need to keep re-sacrificing Christ for the same sins. Living a life of repentance and faith is what qualifies me to preach the gospel.
So as I drive around Wichita and visit places or see people that remind me of my former sins, I have a choice: Those memories can cause me to wallow in misery or they can lead me to the foot of the cross where they are fully paid. It doesn't mean there may not be people that need to hear my confession or that I escape earthly consequences for my sin, but I can live freely knowing that God has forgiven me.
I find Skillet to be a band who capture the emotion of the Gospel through their chosen music without becoming cliche. Their song Forgiven is no exception:
2. Only the cross-eyed can find true freedom
It's really possible that a prisoner can know more freedom than his accuser. I'm that Freed Prisoner. Our world says my sin should imprison me, but through the reality of the cross and the love of God I am forever free and forgiven. My guilt is washed away, the stain is removed and the memory of my sin no longer exists for the Father. I cannot always remove the memory of those sins from my own mind (though God often does) or from the minds of others, but those memories serve a wonderful testament to the eternal pardon I've received from Jesus himself.
You see, Jesus is the one I've sinned against ultimately. I've trashed on his laws and considered them 10 suggestions for good living instead of 10 rules for godly living. I've reduced his grace to a mantra and permission to do what I choose. I've ignored his voice and promptings when faced with temptation and my raging passions. And then after succumbing to my ungodly desires I've wallowed in sinful guilt and shame.
Desperation Band wrote "I am Free" and Newsboys proclaim it boldly here:
3. Only the cross-eyed are accepted into the School of the Cross
I recently prayed this: "Oh Jesus, thank you for these precious reminders of my frailty and need for your atonement. I can never repay you. I can never outlive my need for the cross. I can never graduate from the School of the Cross. I will never get perfect sight unless I replace the log in my eye with the cross. I want to be cross-eyed. Not the kind of cross-eyed that makes me dizzy from staring at myself – that's navel-gazing and leads to blindness. No, I want to see my life and world through the lens of the cross."
The School of the Cross is a daily academy where we learn to believe more firmly the truths of the Gospel and apply them to our own hearts and preach them to the world.
4. Becoming cross-eyed changes how we see our circumstances
My memories and my opportunities all take on different meaning and perspective when seen through God's redemptive purposes at the cross. We ask different questions when we ponder  the eternal sacrifice of Jesus in light of our present circumstances and decisions.
I recently had a hernia and found myself wallowing in misery, pain and a weak faith. I discovered how I've allowed sickness to define my life instead of my soul sickness which finds its remedy in the cross, not a bottle of pills. My prayer now is that when I am sick I might pursue the healing God alone can bring, but not to just be freed from the frailties of human living, but to be set free to eternal freedom, joy and delight.
John Newton pondered how Jesus would view us when looking down upon us from the cross. Sovereign Grace Music offers this haunting arrangement of his hymn, "The Look":
5. Being cross-eyed helps me understand God's purposes
As I reflect upon why God purposed to send Jesus to his tragic death at the hands of the Jews and Romans, it helps me understand something of his infinite loving heart. Being cross-eyed causes to me think more deeply about a story that has become too familiar at times.
Only a God who willingly sent his Son to a costly death would send missionaries into harms way to share a message that is more valuable than finding a new gold mine or diamond field. His love is truly more costly than gold.
The cross required God pay an infinite price for the salvation of all who would be saved. The irony is that the cross itself was made of cheap ordinary wood and nails, but the life it contained for a moment was divine.
I'm left wondering what price am I willing to pay? What holds supreme value for me? Would I sell everything I own to gain the treasures I can only gain at the foot of the cross?
I fear that American Christians want it all. We want the benefits of eternal life and this life, but becoming cross-eyed means I might need to let go.
Jim Elliot famously said, "He is no fool who gives what he cannot keep to gain what he cannot lose." Looking at life through cross-eyes enables us to make that eternally rewarding choice.